For me it began three years ago, on 9th August 1996, with an article in Freelance Informer entitled 'Total eclipse of the pasty' by David Atkinson. In this article, David gave me my first introduction to the Solar Eclipse of 1999 and promised that 'as a way to kick start the millennium celebrations, this promises great things'. I was smitten.
I've never really thought of myself as a New Ager. Twenty years in IT. with ten as a City Contractor, not to mention the various problems of ex-wives, children and mortgages, tend to knock any hippie ideology out of your head. But, I'd always been fascinated by experiencing the new 'Wonders of the World'. I'll never forget my first glimpse of the Leaning Tower of Pisa as it appeared on the horizon. Nor will I ever forget climbing the Eiffel Tower, crossing the Golden Gate Bridge on foot, peering into the Grand Canyon or gazing in awe at the Sistine Chapel. In short, I believe these monuments to man and nature should be explored whenever time and cash flow allow. How then could I miss a 'once in a lifetime' experience? A total eclipse.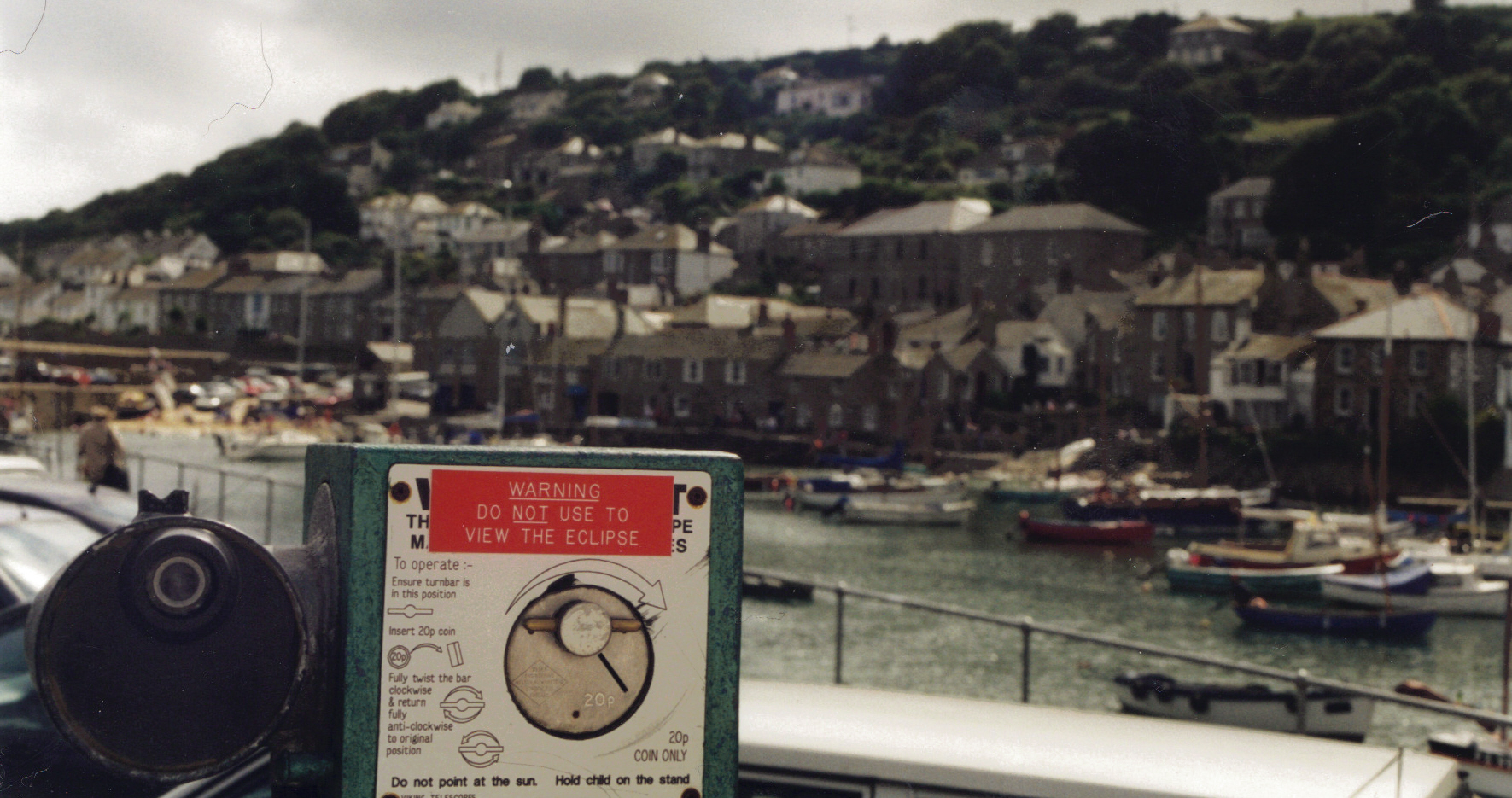 On the strength of this article alone, I booked three rooms in the excellent Hindon Hall B&B in Lelant just outside St. Ives during the Summer of 1996, when even some of the locals weren't aware of what was going to happen. I paid my small deposit and waited for the event to gather headlines.
Even three years ago, I had worried about the traffic and steeled myself and my fellow travellers, particularly the children, for a nightmare journey. Although the Cornish Police seemed to think the Saturday traffic was lighter than expected I allowed myself plenty of time and loaded cases and kids in the car at 3 am on the Sunday proceeding the eclipse. Imagine how surprised I was to hit the County lines by 7:30 and have to while away a bit of time in St. Ives before we could check into our rooms at 10. It became obvious over the following days that people had staggered journeys, but the threats of a siege mentality had made a lot of people think twice before leaving at all. Still, the main thing for me was that I was there, and a sense of anticipation was palpable in the air around Cornwall in the days leading up to the event. Naturally, with the eclipse the lead story locally, the attention had switched to something which foolishly I'd given little thought to. What was the weather going to be like? I learnt after that, even as I was reading the original article, it had been worked out that the chances of seeing the event from the line of totality had been estimated at less than 10%. It seems an eclipse brings it's own weather, although stories of solar winds are still being refuted by such luminaries as Patrick Moore, and so it seemed on this occasion. The two days before the eclipse were bright and sunny and 11th August dawned brightly at first, but soon the heavy clouds were gathering .
It' s odd how a person can play something over in their head before it's occurred. I had imagined where I may be standing when the eclipse occurred and thought that I'd had the whole day planned. My main concern had been whether to let my children use the solar spectacles in view of the worries expressed in the papers and on TV, as to their safety. As it was turn out, that wasn't something I needed to concern myself with! Over breakfast, on the 11th, I suddenly decided to panic. I had visions of being this close and then getting caught in traffic at 11am on the short journey to St. Ives where I had decided to watch it. I was also confused by the gathering media at St. Michael's' Mount. I had an idea that I should go with the herd. Eventually, someone sharing the breakfast room with us mentioned a local beach where 'those in the know' would be gathered. I instantly ditched my plans of three years and decided on the short hop to the beach at Lelant.
Loaded with camera, video, solar viewers but, strangely, no umbrella, we set out for the beach and was almost down on the dunes when the heavens opened and the heavy downpour started. Naturally, partner and children began to wonder what the hell I'd got them into. I was determined to remain stoical about the situation but even I was beginning to despair as, with sky darkening, I found myself trying to clean rain of the video lens with a hankie already soaked through with the intriguing combination of rain that had seeped through my trousers and the results of an allergic rhinitis problem that decided to manifest itself on a cold, wet day in August. We huddled under a cliff outcrop and watched a New Age woman dancing to whale music as a sudden hush fell all around. I realised then that contracting had lured me into a false sense of security. I'd had too many holidays abroad and I'd forgotten what England was like in August. Then the eclipse struck and I forgot everything else.
I'd expected darkness. I'd expected a strange atmosphere of some sort but nothing had prepared me for what occurred. At 11:11, total darkness enveloped the beach, the temperature - already chilly - fell further and then, and I get goosebumps just writing this, something happened. It sounds corny to talk about primeval fears, a sense of wonder, an eerie darkness, a feeling that we are unique in the Universe, that there is something more powerful somewhere. The coincidence that decrees that the Sun is 400 times larger than our Moon yet the same distance away to make it appear the same size. All that has mentioned in the popular press. But it was all that and more. As I looked over the beach I could see the flashlights of cameras in the two bays in the distance, behind us, over the cliffs, a fearful darkness and yet, on both horizons a patch of bright reds and blues representing both the dawn and the dusk of a solar eclipse. I wished later I had had more time to savour it. I would like to have hugged all the family, told them all the stuff that you never mention in the light of day but there wasn't time. I have watched the video of the event since and I can still feel the senses being pulled away. I think now that I would have like to have been with the people at St. Michael's' Mount or gathered up in the crowd at St. Ives but I don't think any of that would have left me with the sense of utter desolation that I had that day on the beach. This really was a unique experience and I'm grateful that I was able to experience it, if not to view it. Truth to tell, I even forgot to look to see if I could see anything. The whole event was just so eerie that all the senses seemed stripped for two minutes. It was magnificent.
As the sky lightened, the atmosphere changed, it just remained to pop the champagne cork and toast the returning sun. The 'knowing' local who had been chatting to us turned out to hail from West London and wanted to talk to me about the West Ham Utd. F.C. towels wrapped round the kid's heads. Others on the beach began to drift away and there was a palpable air of anti-climax both immediately after and during the remaining days of our holiday. We returned to our rooms, emptied the sand from shoes, bags and cameras, took a hot shower and contemplated a cream tea. For Cornwall itself, the culmination of years of planning had passed and the 'Vacancy' signs, empty campsites and slowly departing traffic bought to mind the holiday season end rather than a mid-August lull. The last eclipse to be seen in Britain for another 90 odd years was over.
However, I'm hooked. I've always hated people telling me what to do and too many people told me that this was 'a once in a lifetime' experience for me to ignore. I've consulted the Internet and, even allowing for a reluctance on the part of my Bank Manager to pay to go to South Africa or to brave an Arctic viewing, I'm determined, God willing, to experience another - perhaps even to see one this time!. So, it's Madrid in 2005 for me and if anyone reading this wants to cut it out and meet me there then I'll let them stand me a Curvezo or two.
As for David Atkinson, it's a big thanks for getting me in on this so early. Ironically, as I was looking up the original article for reference, I re-read the whole thing again and 'found' the closing paragraph which reads "Knowing this country, it will probably rain anyway". Ah well, no hard feelings David, if you read this arrange to meet me in 2090, I'll be sure to thank you in person!