As a football supporter, West Ham fanatic and old time Computer Operator, I was very interested in a recent report of what happened when West Ham's very own fiery Italian striker, Paolo Di Canio, returned to the country of his birth during a recent World Cup break. What did the Italian genius get up to on his return home? Surely it was a chance to top up the tan, visit the relatives and arrange a party with a bevy of olive skinned lovelies? Or perhaps disappear down the Trattatoria for a well-deserved Frascarti or two? No! Not our clean living striker. For, apparently, as soon as he steps off the plane, Di Canio 'rekindles his passion for Subutteo'. Paolo is quoted as saying 'As soon as I get back, the first thing I do is organise a tournament for eight of us who still play'. Di Canio explains; 'We play against each other every time I am home and the person who finishes last has to buy dinner for everyone.'
Accor
ding to the report, two of Paolo's lawyer friends are current Subbuteo European champions and both play for the national team. He goes on 'I have played Subbuteo since I was seven and I have about 30 teams at least. When you play Subbuteo there are rules just like a real game; there are tactics and strategies. It gives me the same emotion as real football and gave me my passion for the game.'
Apart from the marvellous mental image this conjures up of Di Canio, screwing a finger against his head and shrugging his shoulders histrionically at a couple of thirty-something lawyers in his Dining room or, perhaps, falling dramatically to his lounge floor clutching his ankle and screaming for his wife to bring him a sandwich, this story surely must bring a gleam to the eye of a large number of ex-Computer Operators who used to work in the London offices of a famous fruit importation company.
I must stress before I go on, that this article isn't an impassioned plea to the makers of Subbuteo to reconsider their decision to stop making the game. I recognise that time moves on and, having tried to introduce my son to a watered down version of the table-top game a couple of years back, would have to fully admit that playing 'World Cup '98' on the Nintendo 64 beats pushing plastic men against a ball scaled to the size of an old football stand any day. Nor is this tale going to be a salute to the golden summer days of my childhood where I joined teams of spotty schoolboys in a pre-fantasy league plastic tournament. No, my tale is more recent and, perhaps, even more disturbing.
You see, I didn't play Subbuteo as a boy. The first time I flicked a plastic player against a huge ball wasn't until I started work as a Computer Operator in a West End office. The company, famous for it's Bananas, was the closest an adult can get to returning to kindergarten without becoming a teacher in one. The heady mixture of young men and women closeted behind thick glass working on those huge IBM behemoths while the rest of the company tip-toed in awe around us was really just a cover for juvenile antics of the most hilarious kind. Every day was a constant drama of off-ground touch, chair-racing competitions, Ludo leagues, elastic band fights and, naturally, the infamous lunchtime Subbuteo league. I could probably write a book – and perhaps may still do so – on the characters and stories involved in some of our escapades but, until it's revealed that Kevin Keegan gave up the England job because of his pre-occupation with Ludo, you'll excuse me if I stick to the Subbuteo angle.
The original idea was to play a full sized version of the game and, as I used to work the night shift as a Computer operator at the time, there was plenty of opportunity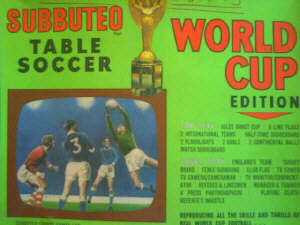 to play night matches under floodlight (angled desk lamps) at Wembley (the Managing Directors baize topped writing desk) when most of the country was asleep. However, it wasn't found to be suitable for a lunch time version of the game so a bastardised 'American' version was purchased. This followed the U.S.A's aborted attempts to introduce 'professional soccer' to mainstream sports by introducing an indoor version of football, similar to 5 a side but larger. Subbuteo picked up on this and introduced their own 'indoor pitch' which played exactly as the original but could be folded away, didn't need ironing and had a wall round it. This was a great bonus as it meant the players didn't have to spend hours chasing the ball round under the IBM Mainframe and it could quickly be stowed away if the Chief Banana chose to stroll in.

What started as a great laugh quickly became an impassioned battle and teams soon had a real name, as did the players. My own team, Petesboro, were clad naturally in old-style claret and blue and included such players as Ted Legge, Pete Bogg, Fingers Ferguson, Gerry Hatrick and even, for a season, the infamous Willy Winger. Winger was a legend among small plastic figures as he was the first player to be sold, by Dingly Dell, for the then phenomenal fee of one Mars Bar, to Sporting Billy. I managed to pick him up in the twilight of his career but he was still a good player.
I managed to win the Lunchtime Subbuteo League once after Dingly Dell surprisingly lost the last match of the season to the already relegated Basildon Bonds. But my best memory must be winning the Cup Final against the aforementioned Dell in the inaugural season. To say I was a rank outsider would be putting it mildly. Dell were managed by Malcolm, a Southampton schoolboy player of some note, and he was the only person able to swivel the player around to the other side of the ball. I was an alehouse player - all push and shove and the feeling was I would be thrashed. I had been lucky to survive extra time in the semi-final against Sporting Billy when a hotly disputed penalty was dispatched by Legge and my luck wasn't supposed to extend to the final.
Subbuteo Cup Final day was just like the real thing. A warm Spring day, a miniature Cup had been purchased – thanks to the coffee money – from Hamley's and paper boxes had been stacked to represent stands. The Manger of Sporting Billy became Prince Phillips (his own surname) and sat in the Royal Box with another set of boxes representing the 39 steps. Alerted by an internal memo, there were people from all over the building to watch – even the Accounts and Payroll Departments had representatives, and a real atmosphere had built up by kick off time.
The match seemed to be heading the way that everyone thought as Boro spent the first half defending frantically but, aided by some superb Fingers saves and some wayward shooting by Dell I managed to get the players back in at half time with the score still standing at 0-0. The second half turned into a Subbuteo stalemate as Dell ran out of ideas while Boro had none in the first place. Then, with the tie heading toward extra time, the ball ended up 4" outside Dell's penalty area, wide on the right. "Carrot" Cruncher surprisingly missed with his flick but the nearest player to the ball for me was Bogg, standing just outside his own area, virtually half the pitch away. What happened next caused Bogg to become a legend in his own lunchtime. I flicked; Bogg travelled the length of the pitch and just caught the outside edge of the ball, which flew off at a 45-degree angle beyond the despairing dive of the Dingly Dell keeper. 1-0 to the Boro boys. If I'd practised all-night I could never do that again. The crowd went wild. Malcolm flew into a rage and, panicked, throwing everything into attack. But, it was too late, there was just time for Fingers to make another superb save and it was all over.

The rest of the afternoon was a blur. I remember someone cracking open some Babycham and filling the miniature cup up. I ran round the Operations room with it on my head. A complete write-up on the match appeared on the Company notice board and the In-house journal. Our Manager said he hadn't had so much fun in ages (he didn't get out much) and the excitement generated caused the inauguration of many teams around the company. The League and Cup continued for many seasons until a lack of money forced us all into plying our trade away from Fruit Importation and into other, more lucrative, businesses in the City.
Still, I've never forgotten my brief glimpse of Subbuteo history and, my hero Mr. Di Canio's revelations have only served to whet my appetite for the glory days. So, it's up in the loft for my son this week. Pete Bogg calls to me again and I challenge the fiery Italian now to turn up at my house for a game anytime he feels ready. But I warn him. Willy Winger will cost a lot more than a Mars Bar this time round!